Or is it…. For a few months now I have been dabbling with an artistic iPad App and Community. I have written about it before. It is called Sketchclub. It is a high end low cost drawing/painting creation program that combines the best of what the iPad has to offer with the best that digital drawing tools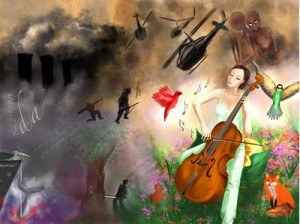 have to offer. Sketchclub also links this powerful drawing tool with a worldwide community of thousands of artists. These artists are as varied as their locations would indicate. From the United States to Russia and everywhere in between. From Japan to Australia and all points in between. It is a community of thousands of artists that all have something to say. Some have the ability to speak in art, some do not. 
I provide here an example of an artist that knows how to communicate with digital drawings. The artist goes by the name of Da and resides in Croatia. This piece drives home the dichotomy of beautiful music, wildlife and nature with starvation, killing and war. Some may love it, some may not, but everyone will understand its meaning.  To see the process of creation in motion is awesome. SketchClub enables the artist to record the entire creation process and if desirable, set it to music. You can watch the five minute video of this drawing on Youtube. You can look at the drawing full screen on SketchClub. This artist has much to say and has found a way to communicate her minds eye through digital art using SketchClub. Artists have long since spoken their minds through art and now they can speak using digital art and also document the process. If you have an iPad, look for the App on the iTunes Store.